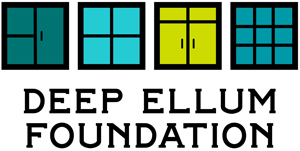 The Deep Ellum Foundation operates exclusively as a nonprofit 501(c)(3) corporation to raise and distribute public funds within the community to enhance, improve, and market the neighborhood as a whole.
By contract with the City of Dallas, the Deep Ellum Foundation manages the Deep Ellum Public Improvement District. In addition, the Deep Ellum Foundation strives to provide a unified neighborhood voice to the city and work among the property owners, business owners, residents, and visitors.
---
Deep Ellum Foundation Staff:
Jessica Burnham, Executive Director
Emily Vanderstraaten, Programming & Marketing Coordinator
---
DEEP ELLUM FOUNDATION BOARD
President, Jon Hetzel
Vice President, Cash Harbaugh
Immediate Past President, Scott Rohrman
Secretary, Joel Triska
Treasurer, Denny Hunt
Rich Cass
Chuck Hixson
Bud Melton
Kellan Warren
Executive Director, Jessica Burnham
Programming & Marketing Coordinator, Emily Vanderstraaten
The Deep Ellum Community Association (DECA) is an all-volunteer community group established to keep Deep Ellum a diverse, urban, sustainable walking neighborhood built upon a culture of independent creativity.
DECA believes Deep Ellum is the soul of Dallas and works on projects that promote the neighborhood and its residents, businesses, artists, musicians, and history.
For more more information please contact info@deepellumtexas.com
DECA BOARD
Board Officers:
President, Rachel Triska
Secretary, Kelsea Miles
Treasurer, Jim Rogers
Board Members:
Frank Campagna
Trey Carmichael
Kelly Clemons
Allen Falkner
Paula Harris
Breonny Lee
Michelle McLaughlin
Kellan Warren
Committee Chairs:
Deep Ellum Urban Gardens, Dave Kasper
Foundation 45, Anthony Delabano
Bike Friendly Deep Ellum, Sean Clancy
Deep Ellum Outdoor Market, Michelle Maloney