Navigating Deep Ellum isn't nearly as hard as you think!
Metered spots run from 6:00pm to 12:00am – that means do not pay before 6:00pm.
Generally, the parking lots are $2 on weekdays and $5 on nights and weekends to park; however, lot prices vary, so pay according to signage on the specific lot. Take a moment to observe your surroundings and ensure that you're not overpaying or paying an unofficial attendant.
Deep Ellum Rideshare Designated Drop Off/Pick Up Zone Pilot
---
NOTICE: RIDESHARE CHANGE – March 18, 2020
Effective starting this Thursday at 9:00pm, the Deep Ellum designated rideshare drop-off & pick-up zones will be temporarily turned off until further notice as a response to changes recommended by the CDC and the City of Dallas. During this temporary change, rideshare vehicles can be summoned to your location anywhere within the Deep Ellum PID. We will continue to share updates regarding the reestablishment of the zones.
---
To ease congestion and related public safety concerns as well as improve the customer experience, Deep Ellum is piloting designated rideshare drop off and pick up zones beginning on April 18, 2019. 
The 5 designated zones will provide rideshare customers access within 1 to 2 blocks of their desired destination in Deep Ellum while improving traffic flow and emergency vehicle access, especially in the core area of congestion in Deep Ellum (on Main and Elm Streets between Good Latimer Expy and Malcolm X Blvd, see map below). The Dallas Police Department and Deep Ellum Foundation's Deep Ellum Public Safety Program team will support patron wayfinding and safety and enforce these zones' use during Deep Ellum's busiest nights and weekends. If you have an emergency, dial 911.
The new rideshare zones will be in operation from 9:00pm on Thursday until 3:00am on Monday mornings, while keeping the 3am-8am nightly cutoff to allow late night employees direct access to pickup/dropoff.  Drivers will be ticketed for non-compliance until 3:00am nightly. If you are a person with disabilities or are an employee getting off late at night (e.g. after 3:00am), you may call your driver and will not be prevented from meeting your ride directly at your location due to this pilot program. This is intended as a service for Deep Ellum to improve the experience for everyone.
The Deep Ellum Rideshare Designated Zones pilot is being launched as a result of feedback we received from Deep Ellum businesses, residents and stakeholders. Transportation and mobility challenges such as congestion and parking were cited as the #1 improvement that could be made for the neighborhood. This is one step toward improving the transportation experience and safety for all in Deep Ellum but it will only work if we work together. If you live, work, or play in Deep Ellum, we need your help! This is the first program of its kind in the region outside of DFW airport and we ask for your support, your continued feedback and your engagement to help this pilot achieve our collective goal.
Please feel free to message us on social media or at info@deepellumtexas.com to share your experience and questions regards the pilot program. Thank you!
Deep Ellum Rideshare Designated Drop Off & Pick Up Zones Program Plan FAQ
Q: During which hours will these designated zones operate?
A: The zones will be in effect from 9:00pm on Thursday evening until 3:00am on Monday morning, while keeping the 3am-8am nightly cutoff to allow late night employees direct access to pickup/dropoff. As this is a pilot program, the zones may expand slightly or shift as the performance of the program is assessed. The goal will be to get rideshare customers to and from Deep Ellum quickly and efficiently while maintaining the flow of traffic throughout the neighborhood and especially on Main and Elm Streets between Good Latimer Expy. and Malcolm X Blvd.
Q: Where will rideshare vehicles wait to be connected with riders? Will staging areas be offered? 
A: Rideshare staging areas (where drivers may wait outside of the core area of activity in Deep Ellum to be connected with a rider) will be designated along Main and Commerce Streets between Cesar Chavez Boulevard and Good Latimer Expressway underneath highway I-345. Staging areas are not for rideshare drivers to park nor leave their vehicles. Rather, the areas will provide for shared use of the public right-of-way for rideshare staging along with other uses including biking in the bike lane available on Main Street.
Q: How will the zones be identifiable by customers and drivers alike? What infrastructure will be used?
A: The zones will be identifiable via new, green-colored city signage stating the areas are designated for ride drop off/ pick up or rideshare driver staging (where they may wait outside of the core area of activity in Deep Ellum to be connected with a rider). The Deep Ellum Foundation will supply A-frame signage to designate zones as well as flyers for businesses to distribute and have additionally worked with area property owners, The City of Dallas Department of Transportation, and Oncor to provide enhancements such as heightened lighting to draw attention to the zones.
Q: How will persons with disabilities preventing them from walking be accommodated?
A: Persons with disabilities may bring their government issued "accessible placard" (such as a vehicle tag hung upon car rearview mirrors to access wheelchair accessible parking) illustrating their need for accommodation. Upon displaying one of these, officers and security guards will enable persons with disabilities utilizing rideshare services to be dropped off/ picked up without requiring use of the designated zones. Officers will use their discretion to enable access to persons with disabilities if an accessible placard is not presented.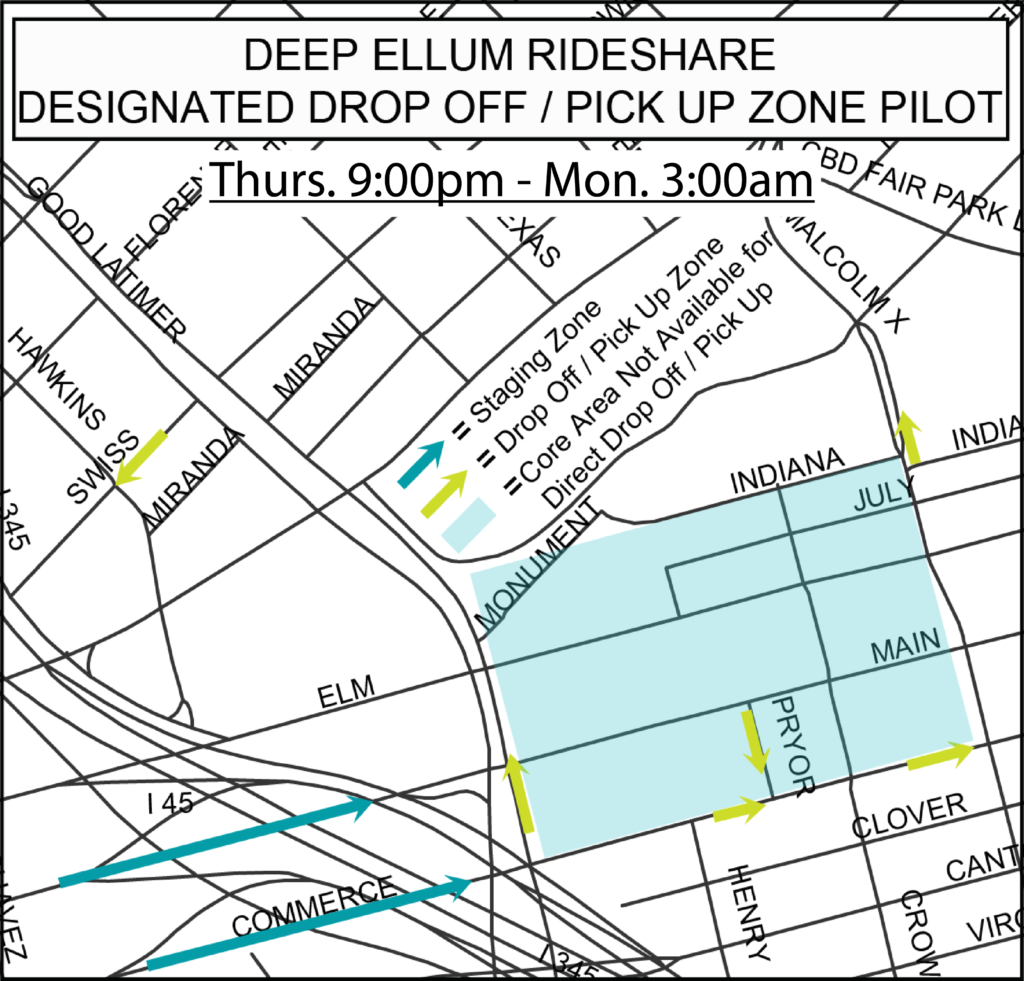 Scooter Safety!
When operating electric scooters in Deep Ellum, remember that it is prohibited to ride scooters on the sidewalks in Deep Ellum! DPD is now issuing tickets to violators of restrictions.
Please take other safety precautions while operating electric scooters in Deep Ellum such as:
Wear a helmet
Ride one person per scooter
Do not ride against traffic
When parking scooters, park upright on the sidewalk and do not block walkways or doorway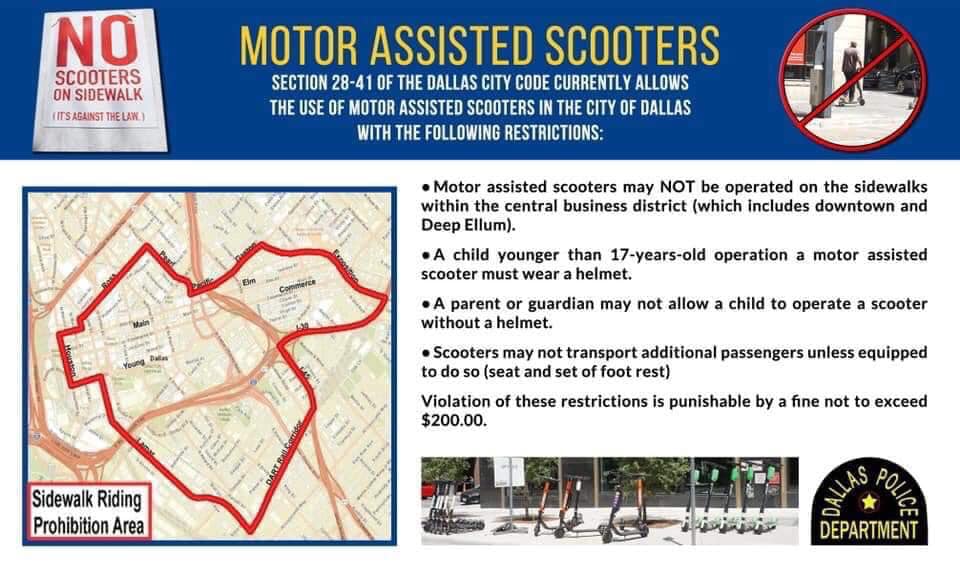 We're lucky enough to have direct access to the Sante Fe Trail on the east side of Deep Ellum. It's cool that the trail connects all the way to White Rock Lake. It's even cooler that the closest stop by the trail entrance is next to Cold Beer Company!

DART RAIL
We have 3 DART rail stations in Deep Ellum:
Get the DART Schedule
---
---
---